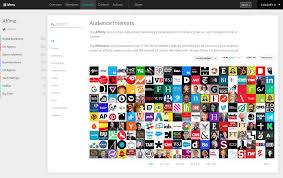 Affinio, a consumer analytics startup, announced a $9 million Series B round on Monday as the company expands its product into brand advertising.
It has raised a total of almost $14 million, and investors include Whitecap Venture Partners and Social Starts.
Affinio enhances a marketer's interest graph by connecting first-party data, social media, a DMP partner and third-party data providers, according to co-founder and CEO Tim Burke.
"A lot of the data companies now have aggregated massive amounts of data," he said, "but what they haven't cracked is the ability to empower marketers in these organizations to formulate that data so they can make strategic decisions without relying on data scientists and people writing custom queries and code to analyze large data sets."
The company's main business has been licensing its tech to agencies, but direct deals with marketers, mostly media companies and CPGs, drove growth the past couple of years. Companies like Unilever, BBC Worldwide and Paramount are among Affinio's flagship brand and media customers.
Those companies have slowed spending on digital channels, but "we're riding a wave where there's less going to media and more going to understanding data and customers," Burke said.
Within those big marketing organizations, Affinio often competes with large metrics and measurement companies like Nielsen or comScore, he said. "A lot of the accounts come from panel-based measurement."
BBC Worldwide has the technology to connect individuals and devices, recognizing return readers or subscriber preferences, for instance.
But Affinio "highlights what else really matters to and defines our audiences," said Michael Scull, BBC Worldwide's global brands insight executive. Specifically, it helps identify potential partnerships or segment audiences for different kinds of stories and messaging, Scull said.
While Affinio isn't pushing improved media buying as its value prop, once a client licenses a SaaS account seat, its data can be activated by ad tech partners.
A big chunk of its latest funding round will go toward product integrations with DMPs and DSPs, Burke said, as well as with data brokers that aggregate store transactions, which CPG clients increasingly use to dictate media spend.
Round13 Capital, a new investor with this round, was attracted to the startup particularly because of its potential applications with demand-side exchange players, said Craig Strong, a partner at the venture capital firm.
"We'll happily play with agencies," he said, "but what we're learning across our portfolio is it's better to work with the companies that are selling directly on the exchange."