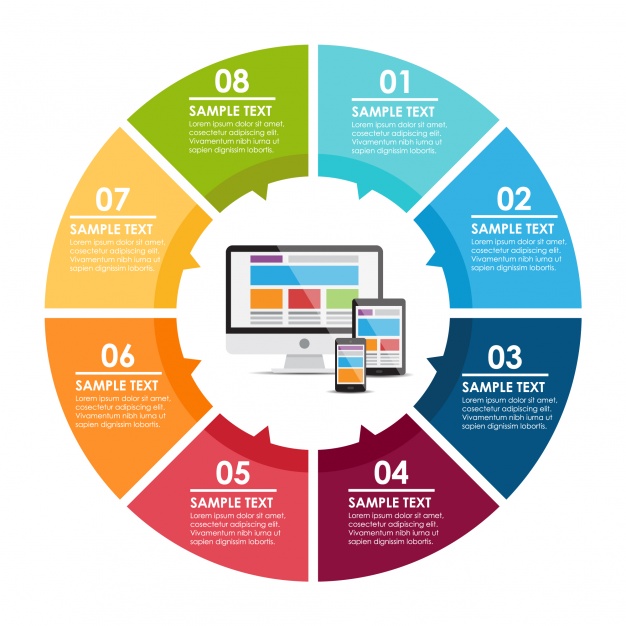 If there is one thing that we have noticed from managing our social media pages, it is that people love Infographics. A one page document that is visual focused and simple to understand intuitively makes sense that it would be popular on today's web, where your next viewer may only have 30 seconds to review your content. Great infographics are likely to get shared, which means that if you play your cards right, you could generate dozens of inbound links to your website that are genuine and well earned. Our post will cover ways that we believe you can create an outstanding custom infographic that is sure to be shared and shoot for viral status.
1. Don't Be Promotional
While we think that this point is rather obvious, we have seen more than our fair share of Infographics online. However, they are usually restricted to promotion centric social media campaigns rather than being shared organically. Let's face it, your company wants good organic inbound links and to develop a reputation for being knowledgeable. The most successful marketing is often subtle, like clever product placement of a Coke can in the next Hollywood film. If consumers so much as think that the bait on the hook is to catch a fish, they are exponentially less likely to be sharing it with friends. Focus on using the space for providing value added insights and place a small logo at the bottom so people can associate your brand with the knowledge you provided them.
2. Make it Easy to Share
If you are not a tech savvy marketer, what is needed to share an image on your blog or social media page? You probably need to download an image and re-upload it to your server where the content will be viewed. The most effective way would be to provide all the social media share links directly from your blog post, along with an embedded snippet that people may copy and share to quickly post on their website. The embedded snippet is the HTML code that links to the image, and your website, so that you can get those highly desired inbound links as you hope your hard work pays off and the content goes viral.
3. Hire an Infographic Designer
Have a graphic designer that you already use for your website and marketing materials? That is great, but the best Infographics are created by people that have prior experience creating them. If your go to guy or gal does not have a rock star status Infographic portfolio, perhaps you should use a contractor to create one at an affordable rate. Websites like Fiverr offer professionals that specialize in Infographics and can create custom ones starting at $15 up to $100, depending on your needs. Try to think about the return on investment that the Infographic will deliver by measuring your goals before splurging on the most expensive designer available.
4. Cover Something Trending
By something trending, we do not mean a cliché topic that every blog and news website has already covered. What we really mean is something that is about to be trending so that when users search for news related to this subject, your Infographic is there to provide insights and be shared. For instance, where was your company's Infographic when Google announced they would start penalizing mobile websites? You knew this would be trending because of its significance and directly after the announcement, most media and news websites had not yet created posts to cover it. Beat the competitors to the news and win the visitors, create a great Infographic to promote, and achieve the viral crown.