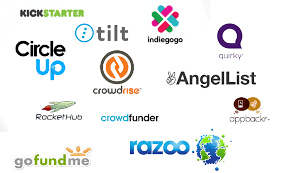 The number of crowdfunding platforms jumped from 308 in 2013 to 1,250 in 2014, according to Massolution. Selecting the best crowdfunding platform for your company depends on several factors. Some platforms may be specifically tailored to your industry, whereas others leave you lost in the noise and irrelevant traffic. There are a lot of posts online about how to use Crowdfunding platforms, but few describe the best way to select the one that is best for your campaign.
This article is designed to help you better understand what platform is optimal for your crowdfunding campaign. However, the key to remember is that the optimal crowdfunding campaign that you select will reflect how your company performs in the market. That means, it is not necessarily about the capital received, but the traction gained and feedback received. The most successful companies have not always been those that raised the most on Kickstarter, but perhaps they did receive valuable market information.
Understand your target market
When you create a product, we expect that it has a target market in consideration before its inception. Understanding this target market will help you to select the best platform. If you do not understand each platform, simply find the one that has the most similar products featured on the front page. The most successful campaigns are always found on the front page, which gives you an indication of the classification of successful items for that site.
The sample below provides the trending items on Indiegogo, a mainstream crowdfunding site. The products range based on their category, but smaller items that cost less are typically a lower price. Many of these backers are publically demonstrating their interest in your product, which gives you an understanding why they prefer your products.
Analyze the company
There are several dimensions to consider when selecting the company aside from positioning. There are a lot of niche crowdfunding sites online, but they may not have the same amount of your target market on them. In other words, the population of Red Ants in any given state is smaller than the amount of Red Ants in three quarters of the remaining area.
In order to analyze the traffic, we used the free website Traffic Estimate, a tool that estimates historical web traffic. The amount for Kickstarter was found to be 30.086 M over the last 30 days. In contrast, Indiegogo has received 12,437,000 visits in the last 30 days. However, when we analyze Kickstarter's home page, we see that they heavily promote art and entertainment. We may also consider that perhaps a large number of these visits are people fundraising, and only a small amount are actually investors.
In this case, we used the freemium tool SEM Rush to analyze what searches were paid, as we assumed that paid searches would promote campaigns for funding. The amount of paid searches for Kickstarter campaigns is over 2x the amount spent on Indiegogo. However, Indiegogo is gaining traction on the organic search rankings. From the numbers for general products, it makes sense to use Kickstarter if you want your campaign to receive benefit from higher organic search rankings and paid search.
There are several other niche platforms online, but you must analyze the traffic to the website, as the massive amount of websites encourage many companies to use deceptive advertising practices. There are also instances where mainstream websites are not feasible for you. However, this article is designed to look at Crowdfunding from not a financing perspective, but rather a way to get targeted feedback from a potential target audience of early adopters.