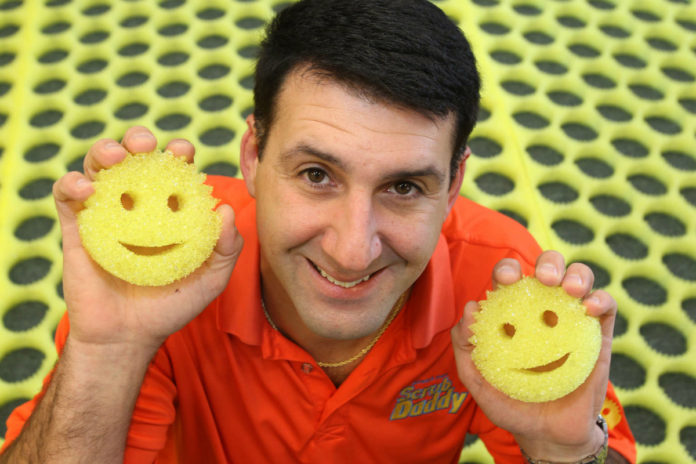 Aaron Krause surprises the world with his new innovation 
Aaron Krause is the founder, and CEO of Scrub Daddy does not stop working until he falls asleep. After a long day in the office, he'll continue to answer emails from his phone while lying in bed. "I wish I could tell you that I shut off," Krause says. "I literally wake up and my phone is still in my hand."
Krause runs the smiley-faced sponge company that gained immense popularity in 2012 after he appeared on QVC and struck a deal on Shark Tank — Lori Greiner offered him $200,000 for 20 percent of the company. Shortly after his TV appearances, Scrub Daddy products hit shelves of Target and Bed, Bath & Beyond. Scrub Daddy has sold a total of $150 million in retail, the company said.
Reaching that level of success wasn't easy. Krause launched the company in 2011 and has been working around the clock to help Scrub Daddy grow. But the self-proclaimed workaholic found the battery life of his phone couldn't keep up with him, so he created a two-in-one belt that charged his smartphone while he wore the accessory. Krause launched the Xoo in August with his co-founder Piers Ridyard. The leather belt, which comes in three sizes, will set you back $249.
"It literally came out of this need to be productive all the time and cell phone battery running out because I'm using my phone like a laptop," he says. "Anytime I'm in a situation that's keeping me from being productive, I start thinking about what the solution is."
Krause says an important aspect of staying productive–aside from making sure his phone is fully charged–is crafting the right schedule. Unlike some entrepreneurs who tout the benefits of starting early, Krause is a night owl who functions better later in the morning.
Krause wakes up around 9:30 a.m., arrives at the office an hour later and usually finishes his day between 12:30 a.m. and 2 a.m. He finds things start to calm down after 5:30 or 6:30 p.m. when he's no longer bombarded by emails. That is when he can focus and catch up on work. On his drive home, he's usually on a call to Asia to make the most of the time difference.
Despite finding and creating ways to get more done, Krause still faces obstacles when it comes to being productive. One of them is hiring the right people. He admitted there are limitations to a number of things he can accomplish and offload some of his work onto the perfect team is paramount. He tends to trust family, friends, or people he's worked with for at least 10 years.
"The entrepreneur can only handle so much," Krause says. "Once you reach your capacity, that's actually when the business will stop growing unless you're able to find people and you're able to delegate that responsibility."
His innovation is expected to be used by all "workaholics".