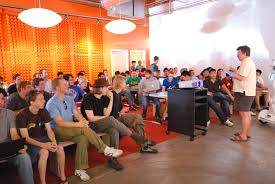 Y Combinator provides advice, support, and other resources to start-up companies. The company will fund its 1,000th start-up by FY 2015, many of which have gone on to receive substantial success in the marketplace with the support of YC. On October 15, YC introduced a new fund that is designed to support its portfolio companies. The YC Continuity Fund will provide continued to support for start-up companies through pro rata investment for every YC company that is valued under $300 million. YC companies valued over $300 million will continue receiving support at the discretion of Y Combinator.
Related: Avoid These 7 Pitch Deck Mistakes
The new fund will help existing Y Combinator companies with the support and resources needed to reach a successful exit strategy at later stages. The new fund only applies to YC companies that were accepted at the initial seed stage. The Y Combinator Continuity Fund is not designed to introduce new companies at later stages that have no prior relationship with Y Combinator. The mission of YC is to be the organization that enables the most innovation in the world. Its new fund may help to accomplish its mission by providing the additional capital and advisory needed to scale growing start-ups.
If you are interested in applying on behalf of your start-up to Y Combinator, you may visit the company's latest application page. The company provides two three-month funding cycles per year, one beginning in January and the other in March. Please review the deadlines for each funding cycle and ensure that the application properly reflects the scalability, profitability, and innovative market solution that your company provides. Remember that the company requires the founding team to move to the Bay Area in order to have access to the resources needed to be successful and to closely follow the application requirements provided on the website.
Related: The 7 Laws of Crowdfunding