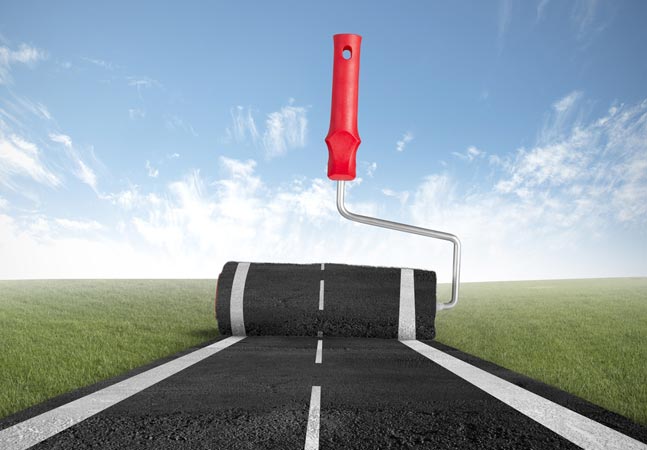 A business plan is often used to communicate a well analyzed snapshot of your company at a point in time. This is used as a medium to provide information for investors. However, a strategic roadmap analyzes the impact of various decisions on your business and the path to implementation. The structure is different, but not contradictive, to the business plan insomuch that it provides more detailed analysis and implementation details that will not interest investors.
A properly structured strategic roadmap will help your company to come to an agreement on the details and understand the common plan of action. It will also help you to benchmark your performance against expectations to understand what went wrong and how to resolve any issues. A general business plan may not contain the quantitative information or be specific enough that may benchmark performance aside from the bottom line. A specific strategy, such as the entrance of a new location or launch of a new product line, must be focused on as it relates to your entire business.
Therefore, it is often more effective to develop a strategic plan focused around a specific initiative, rather than analyzing the company at a holistic level. Understanding how the initiative supports the business as a whole should not be neglected, but the implementation should be pre-meditated with the support of a strategy roadmap. This article will analyze how your company may create such a roadmap to better understand how it fits into the role of your company and what steps need to be taken to create value.
Feasibility Analysis
The feasibility of your strategic roadmap depends on several factors and understanding how these factors impact your business is critical to growing it. However, the growth must be managed in a way that does not sacrifice the stability of your operations. The feasibility analysis stage consists of segmenting and testing each hypothesis that you have considered in order to understand how it impacts your financial performance.
Resource Planning
The resources that you need in order to implement your strategic roadmap must be mapped out in order ensure that expenses are tracked and benchmarked. Our business plan consultants have extensive experience helping companies to allocate their financial, human, and intangible resources in a method that generates the most value. Companies may have an effective strategy that falls short because resources are misappropriated by over allocating in areas where they are not needed, while underserving other channels.
Team Dynamics
Many companies fail to consider how team dynamics impact the success of a project. Personal or management conflicts may get in the way of the end result of your goals and influence the outcome of a project.
The unique combination of skills and weaknesses of team membership should also be strategically combined in a way that creates balance. Qualitative factors such as how the team collaborates and encounters problems will play a critical role into the outcome of any project.
Implementation Schedule
The most important role in creating a strategic roadmap is the implementation. However, you cannot possibly plan the entire implementation and foresee challenges that you have yet to encounter. Creating an implementation schedule will help you to begin the process of assessing the sequence of activities that you will follow in order to reach your objectives. A detailed breakdown of the timeline with the resources and team members responsible for them will help people to understand their roles. It will also help to identify activities that are not aligned with the core strategy.
Developing a strategic roadmap is unlike a business plan, it entails a higher degree of strategy and analysis that will translate into financial success. A strategic roadmap combines optimistic foresight with a conservative, yet bold approach for reaching your key objectives. However, it is important that the plan is feasible and you are capable of allocating the resources necessary to reach the end result. The creation and implementation of a successful strategy is what has turned a company with no profits, into a flourishing enterprise.