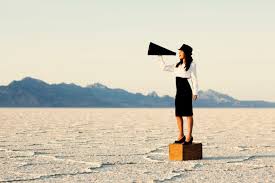 The old ways of focusing on SEO have come to a mum with the introduction of Google's series of algorithm penalties designed to weed out artifices. The advantage is that the shift in ranking changed SEO from a game of budget and backlinks to quality and recognition. Companies that contribute to the web's growing database of free resources yield direct benefits from increased awareness and reputation, but also receive preference from Google's ranking approach.
Therefore, it has never been more important than now to focus on developing great content aligned with your company's strategy. More often than not, companies see social media channels and outbound marketing materials as a promotion channel. With mindset defeats the potential for any value before the first key is typed or design software is opened. A company must begin by thinking what they may provide of value to their target market. The old adage of humans wanting to give back what they receive not only goes into play, but overall reputation enhancement is a benefit if implemented properly.
There are number of channels both popular and emerging that your company may leverage to gain and sustain a competitive edge in the market. Being recognized as a market leader is no longer a requirement of having the highest budget for industry's best PR contacts. If you can develop outstanding content, it will be shared, and your company will directly and indirectly harvest the benefits. The following channels are popular outlets that you company may use to distribute its resources:
Guest Posting: The guest posting segment has been around for a very long time with top publications and news website bringing experts on to provide their industry insight. Your company should be implementing a guest posting strategy into the business plan and understand what blogs/media would be interested in sharing your posts. Be cautious to not fall victim to the short-term gains of being overly promotional. Providing value will help the content spread, along with your links and quality of your reputation.
Social Networking: The key strategy with social networking and content marketing is to be where your customers are. If you are a fashion website targeting college students, you may find more value spending time on Instagram and Pininterest than LinkedIn or Twitter. Understand the social dynamics of each outlet, develop content strategy for all of them and uniquely understand how your company may generate long-term value for the Internet while properly utilizing each one.
Infographics: We have personally experienced the high viral potential of infographics, especially on Twitter. People love advantageous information, but they love pictures and concise points even more. When you provide all of these points, people admire and share infographics, which means greater coverage for you and your brand.
Conferences: This is an interesting channel for content marketing that may not make sense at first. You may be thinking why a software company would gain customers by speaking to its competition. This paradox is resolved when we consider who attends industry conferences, which often include press contacts, industry leaders, people from other sectors, and many other professionals. By establishing a thought leadership position in any industry, your company name will be recognized and leaders will be more open to strategic alliances, press coverage, and affiliate opportunities.